In this issue:
Message to Members:
AAAS Annual Meeting Report: Bridging Science and Society
Highlights from the Annual Meeting:
Plenary Talks
Symposia, Reports, and Events
Family Science Days
Commentary
News to Note:
AAAS Election Results
Expanding Science Diplomacy
Human Rights Coalition Anniversary
Swedish Research Minister at AAAS
Geoscience Education Website wins Science Prize
Visualization Award Winners
Science Careers:
Announcements:
AAAS Awards Winners
2011 AAAS Annual Meeting Symposium Proposal Deadline
Upcoming Annual AAAS Forum on S&T Policy
Science/AAAS Webinar: The Next Generation of Cell Analysis: Gaining Insight with Cytometry
Eppendorf & Science Prize Application Deadline
High School Science Teacher Award Nomination Deadline
Atlas of Science Literacy Workshops
---
---
AAAS Annual Meeting Report: Bridging Science and Society
Dear Colleagues,
From free public lectures delivered by leading scientists to opportunities for the broader community to enjoy science hands-on, the 2010 AAAS Annual Meeting showed an unprecedented effort to bring science to the society we serve. In addition to our usual large numbers of scientists and journalists at the meeting, almost 2,000 members of the San Diego community enjoyed Family Science Days, which featured exhibits from science and technology museums and other local institutions.
Thousands of scientists, engineers, educators, and policy makers traveled from about 50 countries to talk about their work and to help advance the well-being of society worldwide. A broad range of symposia, seminars, and plenary and topical lectures covered all scientific disciplines from astronomy to mathematics, and medicine to zoology.
The meeting opened with the AAAS Presidential Address by Peter C. Agre, Nobel Prize winner in Chemistry, who urged researchers to seek opportunities in science diplomacy across borders and boundaries. In a plenary lecture, Carol W. Greider, a recent Nobel laureate in Physiology or Medicine, explained how her telomere DNA research is an example of bridging science and society. Other speakers included US National Oceanic and Atmospheric Administration head Jane Lubchenco; the President's Council of Advisors on Science and Technology co-chair Eric S. Lander; Director of the US Geological Survey Marcia McNutt; and California Institute of Technology physicist Barry C. Barish.
The free Family Science Days program, with its popular "Meet the Scientists" series, fosters positive engagement between science and the public. Career development events for students and young scientists also were free and open to the public.
As the meeting concluded, we welcomed new AAAS President Alice S. Huang, a senior biologist at the California Institute of Technology who previously held positions at Harvard Medical School and New York University. Outgoing AAAS President Agre began a one-year term as Chairman of the AAAS Board of Directors, ending a busy year that included science diplomacy visits to Cuba and the Democratic People's Republic of Korea.
Annual Meeting highlights, including the winners of the prestigious AAAS Awards, are detailed below. You'll find full coverage at
http://news.aaas.org
.
Sincerely,

Alan I. Leshner, CEO, AAAS
P.S. You are invited to submit symposium proposals for the 2011 AAAS Annual Meeting, "Science Without Borders." See the Announcements section for full details.
---
Highlights from the 2010 AAAS Annual Meeting
Plenary Talks

Presidential Address: Peter C. Agre Opens Annual Meeting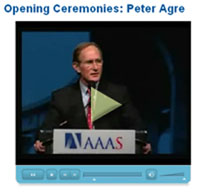 Scientists are "passionate humans" with a chance to serve society like few other professionals, AAAS President Peter C. Agre said as he also celebrated the "people of science" -- students, teachers, heroes, mentors, colleagues, and the public -- who connect scientists with the larger world.
Read more
and
watch a video
of his address.
Carol W. Greider: Basic Science Solves Mysteries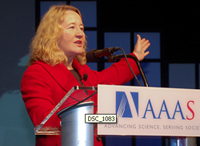 The 2009 Nobel Prize winner in Physiology or Medicine stressed that it took many kinds of basic science to solve an essential mystery: Why do telomeres, while losing a little bit of themselves each time a cell divides, never disappear?
Read more.
Jane Lubchenco: The Need for a National Climate Service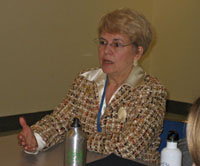 The National Oceanic and Atmospheric Administration head called for a new US National Climate Service, modeled after the National Weather Service. Lubchenco said the new entity would serve state leaders, small business owners, and city planners who increasingly rely on NOAA to learn how to cope with long-term changes from drought to coastal flooding, and also to promote climate management as a spur to economic growth.
Read more



Eric Lander: Science's "Rightful Place"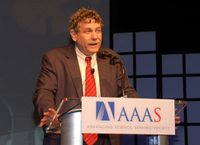 The President's Council of Advisors on Science and Technology co-chair delivered a report on the first year of science-related initiatives, following President Barack Obama's inaugural pledge to "restore science to its rightful place."
Read more.

Marcia McNutt: Surveying the Seas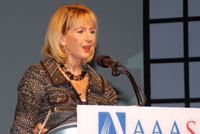 The oceans for too long have been a "featureless blue plain" in our maps and our minds, said the director of the US Geological Survey as she charted the way to a clearer picture of how changing oceans could affect the whole country. McNutt said the USGS is studying the effects of global climate change on sea level rise along the US east and west coasts, citing the goal of mapping on a fine enough scale for individuals and communities to act.
Read more.

Barry Barish: Particle Physics' Exciting Decade Ahead
Caltech's influential particle physicist is looking forward to a "really exciting" decade, from an Antarctic "ice cube" laced with neutrino detectors to the headline-grabbing Hadron Collider. Barish detailed how the evidence for new particles has moved the field toward "inquiry-based science" and singled out neutrino research, particle astrophysics, and high energy colliders as research that could provide exciting results in the next decade.
Read more.
Symposia, Reports, and Events from the 2010 AAAS Annual Meeting
Climate Change: Scientists Stand Behind Evidence

During an Annual Meeting symposium and a later news briefing, a panel of influential US and European scientists affirmed the overwhelming scientific consensus that the Earth's climate is changing and global average temperatures have climbed steadily since the mid 20th century. The prominent scientists noted errors in the 2007 report from the Intergovernmental Panel on Climate Change and questions raised by e-mail exchanges at East Anglia University, saying that the scientific community should have responded more quickly to these disclosures. But they noted that despite these errors, the strong scientific consensus that human activity is changing the Earth's climate.
Read more.
Undergrad Biology: New Plan to Modernize and Excite
The plan, which culls the most effective and modernized teaching techniques from a group of undergraduate biology faculty, focuses on making classes more relevant to students' lives, replacing lackluster approaches that have previously alienated students. A report of the plan, presented during the Annual Meeting, was funded by the National Science Foundation and coordinated by AAAS. Recommendations include student-centered classrooms, a focus on conceptual framework, effective and timely feedback, and subject matter conveying the excitement of current discoveries in biological science. One participant commented: "It's not your grandparents' biology anymore, so why should the courses be offered in such a similar way?"
Read more.
HIV/AIDS: New Plan to Test and Treat

Public health experts are looking beyond developing an HIV vaccine to voluntary screening programs and immediate antiviral treatments in high-risk regions as a strategy to end the spread of HIV.
Read more.
Applied Mathematics: Solving Real-Life Problems
Crime "hotspots," traffic pileups, crowded sidewalks—applied mathematicians showed how their skills can help urban planners and social scientists understand complex groups of unpredictable people.
Read more.


Cancer Care: Creating Biomarkers from Tumor DNA

Researchers presented findings showing that next generation sequencing technology is poised to become a tool in the new era of personalized clinical management of cancer patient care.
Read more.


Medical Research: Dolphins Offer New Insights

Researchers cited new discoveries offered by the study of dolphins that could yield treatment of Type II diabetes and a better understanding of co-infection in cervical cancer.
Read more.


Neurological Development: Effects of Early Childhood Poverty
Experts said they may be closer to learning about the specific mechanisms that translate the stress of early childhood poverty into the body, affecting neurological development.
Read more.
Breast Cancer Prevention: Synthetic Chemical Regulation
Researchers working with California's "green chemistry" initiative previewed a report to be released this spring that could help the state decide on stricter regulations on dioxin, bisphenol A, and similar synthetic chemicals.
Read more.
Human Rights: Geo-Visualization in Pakistan

A new database, using geographic visualization mapping and analysis of human rights-related events occurring in Pakistan, was presented by geospatial experts from AAAS and Amnesty International.
Read more.


Marine Science: Reserves Can Boost Conservation, Fisheries
A panel of top marine scientists said that efforts to improve marine health and increase fisheries are not opposing goals, but to reach both requires careful study of the marine ecosystem including ocean currents.
Read more.


Public Engagement: Science in Movies and Television
A panel of scientists who have worked with filmmakers and writers on a superhero drama said that portraying science correctly can be as important as other production values, advancing a public engagement tool that educates as well as entertains.
Read more.

Family Science Days: Secret (Chemical) Agents
Writing secret messages in disappearing ink, making a living necklace, exploring underwater worlds, playing with lasers, and meeting a platypus during the Meet the Scientists series were all part of two days of educational fun.
Read more.
Commentary: Annual Meeting Series of Op-Eds
During the Annual Meeting, the
San Diego Union-Tribune
published three op-ed pieces co-written by AAAS officials, a leading educator, and a science diplomacy expert.
Science and Society:
Building
Bridges
Outgoing AAAS President Peter Agre and CEO Alan I. Leshner cited a growing gap between scientists and the public, calling on the scientific community to seek new ways to strengthen the relationship: "Our nation can only thrive if decisions are shaped by a science-literate public and well-informed policy makers."
Access the full commentary.
Science Funding: Research and Development
University of California Chancellor Marye Anne Fox joined Peter Agre in a second commentary reminding US lawmakers that, despite serious concerns about the deficit forecast for 2010, "reducing American investment in R&D would cause an even more significant deficit…by diminishing innovation and global competitiveness."
Access the full commentary.
Science Diplomacy: Solving Problems, Promoting Peace
US Ambassador Thomas Pickering co-wrote the final commentary with Peter Agre, saying that recent US science diplomacy missions are emblematic of a promising global trend that will build closer ties between nations -- but also stressing the urgent need to increase the number of H1-B visas for doctors, scientists, and engineers who not only make contributions here but often become goodwill ambassadors overseas.
Access the full commentary.
---
AAAS President Alice S. Huang: In Research, Passion and Freedom Are Crucial to Global Progress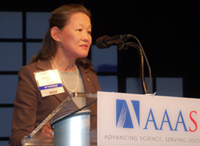 Scientists and science teachers must find a way to convey to the public and students the enormously important contributions made by science and the idealism, creativity, and passion that drive many breakthroughs, virologist Alice Huang said in a recent interview. Huang occupies an influential position at the juncture of research, education, and science diplomacy: working on viruses, cancer, HIV, and other diseases; serving as senior faculty associate in biology at Caltech; and consulting on science policy for government agencies in Asia to promote science as a culture and a way to a free society. Huang sees a role for AAAS to use its "bully pulpit," speaking for US science to ease bureaucratic burdens on scientists, while also reducing the cost of research.
Read more
and access a Q&A.
AAAS Election Results
New President-Elect, Board Members, Section Officers

Nina V. Fedoroff, a geneticist and molecular biologist and science and technology adviser to the US Secretary of State and the US Agency for International Development, has been elected to serve as AAAS president in 2011. AAAS also welcomes Stephen Mayo and Sue V. Rosser to the Board of Directors, and the new officers of 24 AAAS Sections.
Access the full election results.
Bipartisan Statement Urges Expanded Science Diplomacy

More than two dozen prominent policy and science leaders have signed a bipartisan statement urging the US White House, State Department, and Congress to do more to expand links with foreign scientific communities. Among the signers are former AAAS President and current board chair Peter C. Agre and Ambassador Thomas R. Pickering, undersecretary of state from 1997 to 2000. Writing in an op-ed commentary published 9 February in
The Baltimore Sun
, Agre and Pickering noted that although "the US government is off to a good start, with 43 bilateral umbrella science and technology agreements now in force," advancing US science diplomacy globally will require "greater recognition of scientific engagement and increased funding for science capacity building."
Read more
and access the commentary.
Pioneering Human Rights Coalition Shows Early Impact

Marking its first anniversary, the AAAS Science and Human Rights Coalition met to address ethical dilemmas concerning scientific research and the military; to hear from survivors of human rights violations; and to explore the little-known human right to the benefits of scientific progress. In addition, the meeting presented specific programs of science societies, such as geoscientists assisting a Sumatra, Indonesia community in developing its first tsunami evacuation plan. The Coalition's working groups have produced starter kits on how to get involved with human rights organizations and online bibliographies of relevant materials, including science curricula.
Read more
and access information on the "On-call" Scientists volunteer program.
Swedish Research Minister Urges Preparation for Era of Global Competition

Tobias Krantz, minister for higher education and research in Sweden, called for increased scientific cooperation and financial support for innovation during a recent briefing at AAAS. Saying that the United States and the European Union, along with Japan, are the current world leaders in S&T, the minister noted that growing economies in Asia and Latin America are investing heavily in R&D: "A new global economic and scientific landscape is emerging…with previously poverty-stricken parts of the world challenging the West in areas where we have been comfortably ahead for years."
Read more.
Geoscience Education Website Wins Prestigious Science Prize

A website created at Carleton College, designed to develop a culture of sharing teaching resources that make geoscience come alive in the classroom, has been awarded the
Science
Prize for Online Resources in Education (SPORE). The website,
On the Cutting Edge
, contains more than 1,200 classroom activities contributed by the teaching community, step-by-step instructions, and a wide range of visual tools.
Science
publishes an article by each recipient of the award (see the 26 February issue).
Read more
and access information on nominations for this year's prize.
NSF and AAAS Announce 2009 Visualization Award Winners

Now in its seventh year, the International Science and Engineering Visualization Challenge, sponsored by AAAS/
Science
and the National Science Foundation, honors aesthetically appealing images that make complex scientific research more accessible and understandable to the general public.
Read more
and access a slide show, video, and podcast covering the categories: Photography, Illustrations, Informational Graphics, Interactive Media, and Non-Interactive Media.
---
Science
Careers, published by AAAS, offers many resources to help you advance your career. Whether you're seeking a new job, advice on career advancement in your chosen field, or ways to stay current on industry trends, you'll find helpful tools on the site - all for free. Thousands of searchable jobs from academia, industry, and government are available as well as Job Alert e-mails, Career Advice, a Resume/CV Database, webinars, and more. Visit
ScienceCareers.org
today.
Upcoming Events
---

AAAS Announces Winners of Prestigious
2009 Science Awards

The winners and their accomplishments were honored during the 2010 AAAS Annual Meeting.
Submit a Symposium Proposal
2011 AAAS Annual Meeting: Science Without Borders

Next year's AAAS Annual Meeting, one of the most widely recognized international interdisciplinary scientific events, will be held in Washington, D.C., from 17 to 21 February. Thousands of leading scientists, engineers, educators, and policy makers will interact with one another and hundreds of members of the national and international media. For theme statement and proposal submission guidelines and deadlines, visit
our website
.
Register for the Annual AAAS Forum on S&T Policy

The AAAS Forum on Science and Technology Policy is the conference for people interested in public policy issues facing the science, engineering, and higher-education communities. Since 1976, it has been the place where insiders go to learn what is happening and what is likely to happen in the coming year on the federal budget and the growing number of policy issues that affect researchers and their institutions. Come to the Forum, learn about the future of S&T policy, and meet the people who will shape it. Confirmed speakers include presidential science advisor John Holdren; UC-Davis Chancellor Linda Katehi; Patrick Clemins, director of AAAS's R&D Budget and Policy Program; and Daniel Sarewitz, director of Arizona State University's Consortium for Science, Policy and Outcomes. Visit
www.aaas.org/forum
to register and view up-to-date program information.
Join the Science/AAAS Webinar
The Next Generation of Cell Analysis: Gaining Insight with Cytometry

Wednesday, 24 March at noon ET (9 am PT, 4 pm GMT)
The Webinar will:
-bring together cellular and molecular biology experts to share their knowledge of cutting-edge cell analysis techniques
-highlight the latest cytometry technologies available to research scientists
-focus on new applications for flow cytometry devices
-allow viewers to ask questions of the live panel
Register today
.
Produced by the
Science
/AAAS Business Office and sponsored by Accuri.
Apply for the Eppendorf & Science Prize for Neurobiology: Deadline 15 June

The annual international research prize awards US$25,000 to a young scientist 35 years of age or younger for outstanding contributions in neurobiology research based on methods of molecular and cell biology. For information and entry forms, go to
www.eppendorf.com/prize
2010Upcoming AAAS Division Meetings
Nominate an Innovative High School Science Teacher: Deadline 21 May

Calling all US high school science department chairs and administrators: you are invited to nominate teachers for the 2010 AAAS Leadership in Science Education Prize for High School Teachers. The $1,000 prize honors a high school science teacher who has advanced science education by developing and implementing an effective strategy, activity, or program. For more information, contact
lmatlock@aaas.org
. Access
prize details, nomination forms, and application forms
.
Sign Up for 2010 Atlas of Science Literacy Workshops

Designed for K-12 science teachers, curriculum specialists, and other educators and researchers, these workshops demonstrate how participants can use the conceptual strand maps in
Atlas 1
and
Atlas 2
, along with other Project 2061 resources, to take a benchmarks-based approach to helping all students achieve literacy in science, mathematics, and technology.
Washington, D.C.
- 24-26 March
Ashland, Oregon
- 17-19 June
Calgary, Canada
- 8-11 September
Columbia, Missouri
- 6-8 October
Washington, D.C.
- 13-15 October
http://www.project2061.org/events/workshops/default.htm
Apply for Thousands of Grants, Millions in Funding Through GrantsNet

GrantsNet is your one-stop resource to find funds for research and training in the sciences. GrantsNet's database has some 2,500+ funding programs from government, private foundations, and nonprofit organizations. This resource offers the most comprehensive database of funding opportunities for research scientists and administrators, undergraduate and graduate students, career counselors, and financial aid specialists.
www.GrantsNet.org
Join the AAAS President's Circle

AAAS's undertaking to advance science in the service of society is an enormous one, especially now as we are increasingly called upon by the administration and Congress, the science community, and the public to speak up for science on a host of global issues. You can help to ensure that the voice of science -- your voice -- is heard by becoming a part of the President's Circle today with a philanthropic contribution of $500 or more. You will receive updates about our activities and invitations to AAAS events. You will also be invited to participate in a
Live 2010 Webinar
to be hosted later this year.
Visit us online
or call +1 (202) 326-6636 for more information.
---
---
AAAS News & Notes
appears in
Science
in the last issue of each month.
You can also read more about AAAS at
www.aaas.org
.
Science
magazine is available at
www.sciencemag.org
.
Change your mailing address or other info at
www.aaasmember.org
Invest in AAAS
Contributions from our members and friends are needed to support AAAS's mission to promote science in all forms. Visit us online to make a gift,
http://www.aaas.org/aboutaaas/giving/types/designate.shtml
, or call +1 (202) 326-6636. With your support, we can continue to speak up for
you --
and advance science for the benefit of society worldwide.
How to Subscribe to Advances
If a friend has sent you this e-mail, and you would like to start receiving your own copy each month, you must first
become a AAAS member
.
How to Get Off This Mailing List
Use the "preferences" link at the bottom of this email.
Member Benefit

GEICO Auto Insurance
AAAS Members may qualify for a AAAS Member discount through GEICO.


Meet Up at Upcoming Events

Science/AAAS will have a booth at the following events. Stop by to take advantage of the event's special AAAS membership renewal rate and pick up your member pin.

NSTA's 58th National Conference on Science Education (National Science Teachers Association),
18-21 March, Philadelphia, Pennsylvania, USA
AAAS/Science Booth #622

ACS Spring 2010 National Meeting & Exposition (American Chemical Society),
21-25 March, San Francisco, California, USA,
AAAS/Science Booth #523

Analytica,
23-26 March, Munich, Germany
AAAS/Science Booth #412, Hall A3

35th FEBS Congress - Molecules of Life,
26 June-1 July, Gothenburg, Sweden,
The Federation of European Biochemical Societies (FEBS) is jointly organizing the 2010 event with the Swedish Society for Biochemistry and Molecular Biology and the Norwegian Biochemical Society. FEBS Congresses showcase the advances in the molecular biology and medical sciences, and also offer important opportunities for networking among scientists from Europe and around the world. Three Nobel laureates (2008/2009) will speak along with other renowned researchers. Symposia will include 25 different sessions. The latest biochemistry techniques will be presented in workshops on technology developments.


Additional Meetings and Announcements

Alzheimer's Antibody Conference,
7 April, Stockholm, Sweden
This Executive Life Science Industry event presents the leaders of Alzheimer disease providing your R & D organization with a platform to discover ground breaking therapeutics and diagnostic tools within Alzheimer's antibody. Our distinguished speaker panel will share first hand experience to successfully design Alzheimer's antibody programs enabling your company to be a front runner in neuroscience.

The Three I's: IACUCs, IBCs & IRBs,
Collaboration, Connection & Community...
Advancing Bioscience and Security
3-4 May, Tempe Mission Palms Hotel, Tempe, Arizona
This conference has been organized by MSMR and the FBI Weapons of Mass Destruction Directorate with the collaboration of other Federal agencies. As a result, attendees will have the unique opportunity to learn about how security communities perceive the risks associated with biological research and also have the ability to convey to the Federal representatives their own questions, concerns, and perspectives.
- CONFERENCE SPEAKERS
HHS, USDA, AAAS, DHS, FBI, State Department, CITI Program, CDC, HRP ASSOCIATES, Arizona State University, MIT, UC Berkeley, University of Oregon
- AAAS members can register at the $595 member rate

Managing Transitions to Sustainable Communities and Regions, 14-18 June, Ithaca, New York, USA

Cold Spring Harbor Asia Conferences & Summer School,
11 July-10 November (registration through 15 April, Suzhou, China

10th International Symposium on Ginseng,
13-16 September (registration through 10 April), Seoul, Korea REP


Find Other Meetings and Events

Search our database of meetings, conferences, career fairs, career workshops, courses, and awards.


Manage Your Account

Change your e-mail, your mailing address, your section affiliate and more at aaasmember.org.




Sign up for E-mail

Alerts for Science Content

Science Careers Newsletter



Social Networking

AAAS on Facebook and LinkedIn




RSS Feeds

Science Careers Feeds

Science Feeds




Podcasts

Science Podcast

Science Update Podcast


Other Multimedia

Images, slideshows, video, interactives and more