In this issue:
Message to Members: Advancing Science to Meet Global Challenges
News to Note: Science Editor-in-Chief Meets with Chinese Premier, AAAS/Rwanda Collaboration, UK Chief Science Adviser at AAAS, US R&D Funding Update, Call for Expanded Science Diplomacy, and other news items
Advancing Science, Serving Society: The Science Inside Alcohol Project
Science Careers: Top Industry Employers, Upcoming Outreach Events
Announcements: Election of AAAS Officers, 2009 AAAS Annual Meeting, S&T Policy Fellowships, Summer Science Reporter Internships, New Webinar, and other announcements
---
Using Science to Meet Global Challenges
Dear AAAS Member,
The employment of science diplomacy to advance broader international relationships, and the integration of science and public policy to advance international security are the goals of two AAAS centers.
The new AAAS Center for Science Diplomacy works to promote international understanding, peace, and prosperity, collaborating with the scientific and foreign policy communities on issues of global concern such as climate change, energy, innovation, and health. The AAAS center concentrates on countries where government-to-government relationships are limited, following the tradition of productive science engagement between US and Soviet scientists during the Cold War. You may learn more about the AAAS Center for Science Diplomacy at
http://diplomacy.aaas.org/
.
The AAAS Center for Science, Technology and Security Policy establishes global communications links among scientists, policy analysts, and policy makers, assuring that the best scientific facts and thinking are readily accessible to the policy-making process. The AAAS center, with Georgetown University and the Smithsonian Institution's Lemelson Center, is currently sponsoring a series of four public discussions on Science & Society: Global Challenges. Two sessions remain, "Controlling the Spread of WMDs" on 20 October, and "Solving the Malaria Epidemic" on 27 October. You may RSVP to the events, held in the AAAS auditorium in Washington, D.C., online at
http://cstsp.aaas.org/content.html?contentid=1773
.
These centers are but two of our wide array of interneational activities. Other recent events include delegations to China, the United Kingdom, Vietnam, Rwanda and Singapore. In addition, AAAS hosted a very well-attended visit by the UK government's chief scientific advisor.
As a member of AAAS, you provide vital support for our leadership role in using science to meet global challenges. Thank you.
Sincerely,

Alan I. Leshner, CEO, AAAS
---

AAAS Leaders Urge US Candidates to Debate Science Positions
How do the US presidential and vice presidential candidates view science and its role amid the current economic crisis? What are their specific positions on bolstering science education and innovation? These are among the questions AAAS Board Chairman David Baltimore and AAAS CEO Alan I. Leshner posed in a 21 September commentary published in the St. Louis Post Dispatch. The presidential candidates have submitted online responses to 14 science-focused questions at the urging of ScienceDebate2008, but have avoided a head-on science debate despite repeated calls to detail up-to-the-minute strategies they would employ to tackle America's growing challenges.
Read the full commentary
. Access the AAAS website,
S&T in the 2008 Presidential Election
, for information on party platforms, analysis of candidate positions, news, and events.
US Presidential Advisers Debate Candidates' Health Care Plans
How do Senator Barack Obama's and Senator John McCain's records and policies on health care reform differ? What about children's health insurance, embryonic stem cell research, government regulation, the level of federal funding for basic research, and increasing the ranks of the health and science work force? During a September forum, top advisers engaged in often-pointed exchanges while answering audience questions.
Watch a webcast
of the forum and read about the candidates' differing positions.
Science Editor-in-Chief Meets with Chinese Premier
Science Editor-in-Chief Bruce Alberts and Science Asia News Editor Richard Stone had a rare two-hour meeting with Chinese Premier Wen Jiabao and Minister of Health Chen Zhu. The late September meeting in Beijing coincided with the 30th anniversary of the first AAAS delegation to China, and the first anniversary of the opening of Science's Beijing bureau. The week-long trip also included other key AAAS activities, such as a lecture series, meetings with scientists, and what is believed to be the first China-based press conference related to a Science paper.
Read more
about the expanding science diplomacy initiatives between AAAS, China, and other countries and access print transcripts and audio files.

AAAS, Rwanda to Collaborate on Science Education
Returning from a recent fact-finding trip to Rwanda, high-level AAAS officials pledged support for the Central African nation in its ambitious long-term science-based education and development plan. The officials were impressed by Rwanda's effort to recover from the 1994 genocide by using S&T to improve the economy, education, and the lives of its people. AAAS will provide curriculum materials, such as the Project 2061 Atlas of Science Literacy, Science NetLinks lesson plans for teachers, and digital libraries.
Read more
about the growing relationship between AAAS and Rwanda.

UK Chief Science Adviser Speaks at AAAS
The effort to encourage science and innovation in a changing world was the focus of Britain's chief scientific adviser John Beddington's September address at AAAS. Beddington, formerly professor of applied population biology at Imperial College London, spoke about challenges such as recruiting more students into S&T fields and opportunities for the scientific community to collaborate in innovative ways with industry at home and global partners abroad.
Read more
about the similarity between UK and US challenges and opportunities on home turf and globally.
US R&D Funding Update: Federal Research Flat in 2009

The US government's 2009 fiscal year began 1 October, without congressional approval for nine of 12 agencies with major R&D programs. The departments of Defense, Homeland Security, and Veterans Affairs are slated to receive substantial increases, according to an analysis by the AAAS R&D Budget and Policy Program. However, the other science-related agencies will be sustained for several months by a continuing resolution extending funding at or below 2008 levels.
Read more
about cuts in research funding for agencies including the National Science Foundation, the Department of Energy's Office of Science, and the National Institutes of Health, and access the full R&D update.
(
HTML version
)
(
printer-friendly PDF version
)
S&T Adviser to the Secretary of State Calls for Expanded Science Diplomacy

Nina V. Fedoroff, the science adviser to the US Secretary of State and to the Administrator of USAID, urged government officials and American scientists to do more to extend the reach of science diplomacy to improve bilateral relationships. Speaking to AAAS S&T Policy Fellows in Washington, D.C., Fedoroff, a former member of the AAAS Board of Directors, discussed the impact of a collaboration between US and Pakistani scientists and a new S&T agreement with Libya. She noted that "despite the fact that many cultures may have lost respect for our politics…people are eager to interact with us on science." This address was part of an intensive two-week orientation, after which the Fellows began year-long assignments to lend their scientific expertise to the policy-making process and to science diplomacy.
Read more
.
Record Class of S&T Policy Fellows Goes to Work
The 35th anniversary Fellows class of 165 optimistic and idealistic scientists and engineers has begun a year of work in Washington, D.C., joining executive and legislative branch offices. The Fellows represent a growing program as an increasing number of government agencies seek additional scientific expertise in their process of policy making. The new class ranges in age from 26 to 66, and brings experience from industry, nonprofit organizations, academic institutions, and government entities.
Read more
about the backgrounds and assignments of individual Fellows.
Faculty Innovators Transform Science Education
A biology professor put KAPOW! into his classes on evolution by writing and illustrating a series of comic books. The other strategies to transform science, technology, engineering, and mathematics (STEM) undergraduate teaching methods included designing robots that can climb stucco walls by studying the feet of geckos, and exploring geometry by studying angles and perspective in art. The mid-August conference, "2008 Course, Curriculum, and Laboratory Improvement," was co-sponsored by AAAS and the National Science Foundation. In addition to the poster presentation of projects, more than 500 participants attended workshops on creating new learning materials and implementing successful education innovations.
Read more
.
Science News Writer Lives His Series: The Gonzo Scientist
John Bohannon, a molecular biologist who has covered European affairs for Science News, has been filing quirky science stories for the past year. Bohannon was in Mongolia in August to experience, and write about, an ancient ritual to ward off the devouring of the sun during a solar eclipse. The Gonzo Scientist series is named for a writing style made famous by Hunter S. Thompson, in which authors insert themselves into the story through often surreal first-person narrative.
Read more
and access the online articles and multimedia presentations ranging from a Canadian physics-defying talent show featuring a human gyroscope and astrophysical belly dancer to a Swedish 18th century royal banquet and peasants' lunch honoring the 300th birthday of taxonomy founder Carl Linnaeus.
Panel of Experts Examines US Quarantine Laws
While US laws grant broad authority to quarantine and isolate people as a response to disease outbreaks or bioterrorism, "social distancing" methods can only be used as a last resort. In addition, today's laws require that people in quarantine or isolation receive the best medical care and access to communication, according to a recent panel discussion by four experts co-organized by AAAS. Also addressing differing laws in the United Kingdom and other parts of the world, the panel commended efforts to establish a global network for sharing information in the event of a pandemic.
Read more
and access an audio file of the panelists' complete remarks.
---
Middle-Schoolers and Alcohol: Tips for Parents from The Science Inside Alcohol Project at AAAS
According to the US Surgeon General, nearly 20 percent of 14-year-olds say they have been drunk at least once. Another study released in August reports that 73 percent of teens said school stress caused them to drink or take drugs. The AAAS Alcohol Project is suggesting five steps parents can take to counsel their kids about alcohol, including a discussion of the science of alcohol and its psychological and physical effects.
Members of The Science Inside Alcohol Project at AAAS, funded by the National Institute on Alcohol Abuse and Alcoholism, are writing a book for middle school parents and developing an interactive web-based science and health curriculum. The book is schedule for publication in 2009.
Read more
and learn about other volumes in AAAS's award-winning series, The Science Inside.
---
AAAS's online career job and advice site, Science
Science
Careers has a new look and new features that make it easier to advance your career, whether you're seeking a new job, advice on career advancement in your chosen field, or ways to stay current on industry trends. Some of the features you'll find on the newly redesigned site include:
- Enhanced job searching
- Relevant job e-mail alerts
- Improved resume/CV uploading
- Search by geography
- Multimedia section
Visit
ScienceCareers.org
today. Your future awaits.
Science Survey Reveals Top Industry Employers for 2008
Science's annual Top Employer survey results are published in the 10 October issue on page 283 and in an expanded version online at
www.ScienceCareers.org
. Find out which companies are best to work for and why and check out the newly redesigned site with enhanced features to help you with career advice and thousands of job opportunities.
Science Careers is holding a series of Outreach events:
Making New Contacts Through Networking, Atlanta, Georgia

The Outreach Program sponsors a workshop during the Historically Black Colleges and Universities (HBCU) Undergraduate Program conference. The workshop will cover the myths and realities surrounding networking and different strategies for networking including: informational interviewing, attending conferences, participation in professional societies, and social networking websites.
Saturday, October 25, 9:45-11:45 a.m.
HBCU-UP, Atlanta, Georgia
For more information, click on
this link
.
Karolinska Institute Career Day, Stockholm, Sweden

Karolinska Institute Career Services runs an annual career day which attracts hundreds of researchers and postgraduate students. This year, in partnership with Science Careers, the career day offers a variety of career development activities including: career planning, networking, mentoring, CV writing, getting published, and commercializing research.
Saturday, November 8, 9 a.m.-3 p.m.
Karolinska Institute
Stockholm, Sweden
For more information, click on
this link
.
Publishing in Science, Washington, D.C., and San Francisco, California

An editor from Science will discuss the submission, review, approval, and publication process for the journal. The presentation will cover what editors look for in strong submissions and what reviewers are asked to consider when reading manuscripts. The editor will walk through the steps of submitting a paper through the review process and finally to publication, as well as explain what types of papers are suitable for publication in Science as opposed to a specialty journal. After the presentation, audience members have the opportunity to ask questions of the editor.
- Tuesday, November 18, 6:30-8 p.m.
Society for Neuroscience, Washington, D.C.
Walter E. Washington Convention Center, Room 209
For more information, click on
this link
.
- Sunday, December 14, 6:15-8:15 p.m.
American Society for Cell Biology, San Francisco, California
Moscone Center, Room 101
For more information, click on
this link
.
---
Vote in the 2008 Election of AAAS Officers
Ballots for the 2008 election of the AAAS president-elect, members of the Board of Directors and Committee on Nominations, and section officers, are being mailed during October. Members also are invited to submit nominations for the 2009 election, due no later than 26 October.
Check here
for a list of current candidates and details for nominating future candidates.
Register for the 2009 AAAS Annual Meeting Online

Registration is now open for the Annual Meeting, "Our Planet and Its Life: Origins and Futures," to be held 12-16 February in Chicago, Illinois. You will join leaders who are tackling climate change and connect with the emerging field of sustainability science. You will also learn how the US elections will shape policy and funding. Check the details and
register now
.
Sign Up for AAAS Annual Meeting Updates

Sign up for the 2009 Annual Meeting Updates listserv and receive periodic program notices on the meeting, to be held next February. The full program is
now available
.
Join the Next Class of S&T Policy Fellows and Apply Your Science to Serve Society

You may apply online by 15 December 2008 for the 2009 class of AAAS Science and Technology Policy Fellows. The year-long assignments in congressional offices and federal agencies located in Washington, D.C., begin 1 September of each year. Now in its 35th year, the fellowship program is a unique opportunity for scientists and engineers to apply their knowledge and skills to national and international issues, while learning firsthand about establishing and implementing policy. AAAS seeks candidates from diverse backgrounds and geographic, disciplinary, gender, and ethnic perspectives. Fellows have ranged in age from late 20s to early 70s and represent a spectrum of career stages, from recent Ph.D. graduates to faculty on sabbatical to retired scientists and engineers. For eligibility and criteria information, stipend and benefit details, and an application, go to
our website
.
Apply to Be a Summer Science Reporter at a Major US Media Outlet

The AAAS Mass Media Science & Engineering Fellowship seeks to increase communication skills in student scientists. The fellowship places senior undergraduate, graduate, and postgraduate science and engineering students at media sites nationwide to work as science reporters for 10 weeks. Past sites have included the Los Angeles Times, Chicago Tribune, and National Public Radio. AAAS selects 15 to 20 Fellows each summer who receive a $4,500 stipend plus travel expenses.
Check here
for an application and more information. Deadline: 15 January 2009.
Latest Science /AAAS Webinar:
Noncoding RNAs: A New Paradigm for Gene Regulation
– October 22, 2008 at 12 noon Eastern Time (9 a.m. Pacific, 4 p.m. GMT)
Noncoding RNAs (ncRNAs) produce functional RNA molecules rather than encoding proteins and have been found to have roles in a broad range of cellular processes. The challenge now facing researchers is to determine the size of the full complement of ncRNAs, as well as elucidate their function, particularly in disease. This online discussion will center on the different forms of ncRNAs, and the roles they may play in the biology and pathology of human disease.
Register today
.
Produced by the Science/AAAS Business Office and sponsored by Agilent.
Science Signaling, Now with Primary Peer-Reviewed Research

Now, Science Signaling (formerly known as Science's STKE) offers original research. Read all September issues for free with registration. Each week, leading-edge findings will be published in addition to current features. Researchers are invited to submit papers that provide new concepts and new understanding of biological signal transduction for publication consideration. Science Signaling also welcomed the new Chief Science Editor, Michael B. Yaffe, Associate Professor, Department of Biology, Massachusetts Institute of Technology.

Submit your work here
.
Subscribe to Science Signaling
.
Final AAAS Project 2061 Fall Workshop for Educators

Learn more about AAAS's new Atlas of Science Literacy, Volume 2 and how to put it to use to improve curriculum, instruction, and assessment during the popular professional development workshop "Using Atlas of Science Literacy." Designed for K-12 science teachers, curriculum specialists, and other educators and researchers, the workshop shows how to use the conceptual strand maps in Atlas 1 and Atlas 2 to take a benchmarks-based approach to helping all students achieve literacy in science, mathematics, and technology.
5-7 November, San Francisco, California, University of San Francisco, Parnassus Campus
Registration is limited. For details and a registration form, go to our workshop information page.
Click here
for 2009 workshops.
Click here
to sign up for our free e-newsletter and automatic updates on workshops and other Project 2061 news.
US Federal Workers Can Support AAAS through the CFC

You can select AAAS on the Combined Federal Campaign's national/international list, supporting innovations in science, engineering, and technology to serve society globally. All donations go to the AAAS Fund for Excellence to assist in proactively addressing critical issues such as education, climate change, national security, science diplomacy, and scientific integrity. The contribution period is 1 September-15 December. Note the AAAS CFC number 10134.
Click to contribute
.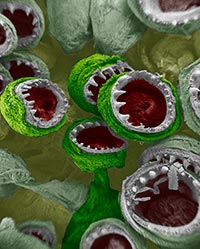 Science as Art: See the Winners of the Visualization Challenge

Densely colored photographs, illustrations, and graphics can reveal intricate details of the world of science—from the three-dimensional path made by a rapidly spinning string cutting through space to the unique anatomy of the half-meter-long Loligo peale squid. These depictions are among the winners of the 2008 International Science & Engineering Visualization Challenge, sponsored jointly by Science and the National Science Foundation.
Read
about the winners in the categories of photography, illustration, informational graphics, interactive media, and noninteractive media and view a slideshow of the images.
Image credit: "Squid Suckers: The Little Monsters That Feed the Beast" by Jessica D. Schiffman and Caroline L. Schauer; Drexel University
---
AAAS News & Notes
appears in
Science
in the last issue of each month.
You can also read more about AAAS at
www.aaas.org
.
Science
magazine is available at
www.sciencemag.org
.
Change your mailing address or other info at
www.aaasmember.org
Invest in AAAS
Contributions from our members and friends are needed to support AAAS's mission to promote science in all forms.
Visit us online to make a gift
, or call +1 (202) 326-6636.
With your support, we can continue to speak up for
you
--and advance science for the benefit of society worldwide.
Renew your membership here
AAAS Member Benefit

Apple Products at Preferred Prices
AAAS members can go to the online Apple Store for special prices on everything from MacBooks and iPods to accessories, from phones to televisions. Free shipping on orders over US$50.


Meet Up at Upcoming Events

AAAS/Science will have a booth at the following events. Stop by to pick up your member pin.

BioJapan, 15-17 October, Pacifico Yokohama, Japan.

CSTA - California Science Teachers Association, 30 October-2 November, San Jose, California, USA.

ASHG - American Society of Human Genetics, 12-15 November, Philadelphia, Pennsylvania, USA.

Society for Neuroscience, 15-19 November, Washington, D.C., USA.

ASCB - American Society for Cell Biology, 13-17 December, San Francisco, California, USA.

AGU - American Geophysical Union, 15-19 December, San Francisco, California, USA.


Additional Meetings

Free Inquiry at Risk: Universities in Dangerous Times, 29-31 October, New York, New York, USA
Social Research Journal at The New School is hosting this conference commemorating the 75th anniversary of the University in Exile. What are the benefits and what are the risks to academic freedom and free inquiry as universities navigate rapid globalization, massification, corporate partnerships, franchises, regime change, and other conditions of duress? This conference will look back at the role of academic freedom and free inquiry in research universities and forward to what the future may have in store.

Proteins Congress, 20-21 November, Palace Hotel, Berlin, Germany
The congress is the single most focused event in Europe dedicated to key technological and scientific trends in proteins engineering, expression and production in the Biopharma, pharmaceutical and biotech industry in the United Kingdom and Europe. Over two days, the two events will attract more than 150 senior-level UK, US, and European decision makers working in proteins development. Topic areas include: protein expression, purification, production, characterization, screening, protein drug discovery, biotherapeutic technologies, and delivery. Special booking discount is available by quoting "PRTCDEL01." For information on sponsorship, email sponsorship@
oxfordglobal.co.uk or call +44(0) 1865 811197.

Signal Transduction Society, 29-31 October, Leonardo Hotel, Weimer, Germany, sponsored by Science Signaling

Bio Korea, 8-10 October, Korea

Second Woods Hole Symposium on Heat Shock Proteins in Biology and Medicine, 3-6 November, Woods Hole, Massachusetts, USA

Janella Conferences Spring 2009, 8 March-2 June, Ashburn, VA, USA


Find Other Meetings and Events

Search our database of meetings, conferences, career fairs, career workshops, courses, and awards.


Manage Your Account

Change your e-mail, your mailing address, your section affiliate and more at aaasmember.org.




Sign up for E-mail

Alerts for Science Content

Science Careers Newsletter

GrantsNet Express




RSS Feeds

Science Careers Feeds

Science Feeds




Podcasts

Science Podcast

Science Update Podcast


Other Multimedia

Images, slideshows, video, interactives and more...

AAAS on YouTube


Social Networking

AAAS on Facebook and LinkedIn