In this issue:
Message to Members: Landmark Agreements with China
News to Note: Myanmar (Burma) Satellite Images, Nobel Prize Winners, Congressional Briefings, New Teaching Tools
Advancing Science, Serving Society: S&T Legislative Tracker, S&T Policy Fellows
Science Careers: Undergraduate Funding, Student Memberships, Research Grants, Careers Features
Announcements: Special Annual Meeting/ New Member Offer, New Art Show, Barnard Lecture, and other events
---
Sponsored by:

---
International Cooperation: Landmark Agreements with China
Dear AAAS Member,
During a fascinating and constructive visit to Beijing, Shanghai and Hangzhou in late September, AAAS signed collaboration agreements on publishing, education and other kinds of projects with both the Chinese Association for Science and Technology and the Chinese Academy of Sciences.
This new engagement comes at a time when China, which introduced crucial S&T developments as one of the world's ancient civilizations, is experiencing remarkable economic growth and increased investment in R&D. We will work together to translate and disseminate educational materials and high impact papers published in
Science.
We have agreed to seek collaborative projects on a range of issues including sustainability, science education, and S&T opportunities for women. During our five-day series of meetings, AAAS also co-organized with our Chinese counterparts an unprecedented China-US workshop on the social and ethical responsibilities of scientists. This month,
Science
is opening a
Science
news bureau in Beijing, and EurekAlert!, our news service for science journalists, is debuting a Chinese-language portal.
Read more
about the beginning of a long-term engagement with China's top S&T leaders that we see as vital for the global scientific enterprise.
We thank our members for supporting the international cooperation initiatives that are key to the AAAS mission to advance science, engineering, and innovation throughout the world for the benefit of all people.
Sincerely,

Alan I. Leshner, CEO, AAAS
---
AAAS Pinpoints Human Rights Abuses in Myanmar (Burma) Via Satellite

Using science in the service of human rights, the AAAS Geospatial Technologies and Human Rights Project analyzed satellite images of 25 sites across eastern Myanmar (also known as Burma) that corroborate on-the-ground accounts of devastation. The analysis pinpoints evidence consistent with village destruction, forced relocations, and a growing military presence. A military state since 1962, Myanmar's ruling junta has destroyed thousands of villages, forcibly recruited tens of thousands of child soldiers, displaced a half-million people, and jailed more than a thousand political prisoners including the world's only imprisoned Nobel Peace Prize winner, Aung San Suu Kyi. Access the extensive coverage at the
EurekAlert! online resource page
.
In Memoriam: AAAS Celebrates William T. Golden

A pivotal figure in the history of American science policy, AAAS Treasurer Emeritus and principal benefactor William T. Golden died 7 October at the age of 97. Among his many contributions are his support for the establishment of AAAS S&T Policy Fellowships in 1973, his service as treasurer of the AAAS Board of Directors from 1969 until 1999, and his historic US$5.25 million gift to AAAS in 2003.
Watch a video slideshow tribute and read more
about Golden's accomplishments within the US government and private industry.
AAAS Members Receive Nobel Prizes for Medicine, Chemistry, Peace

Three of the six researchers who received Nobel Prizes for science this year are AAAS members, as is former Vice President Al Gore, Jr., who shared the Nobel Peace Prize with the UN Intergovernmental Panel on Climate Change. The prize for physiology or medicine was awarded to Mario Capecchi of the University of Utah, USA, Oliver Smithies of the University of North Carolina, USA-- both AAAS members-- and Martin J. Evans of the UK's Cardiff University. Gerhard Erti, a AAAS member based at the Fritz Haber Institute in Berlin, Germany, won the Nobel Prize for chemistry.
Read more
.
Agricultural Expert Urges Tougher Inspection of Food Imports at US Capitol Hill Briefing

As the United States increases food imports from countries lacking strict quality and safety standards, a top security expert urged tougher inspections of agricultural products. At the 23 August AAAS Capitol Hill briefing, New Mexico Secretary of Agriculture I. Miley Gonzalez cited food security as a critical national issue requiring the collection of data on production, packaging, and transportation methods to target the riskier imports, thereby increasing overall effectiveness of the inspection process.
Read more
about the fourth in a series of agriculture security briefings sponsored by the AAAS Center for Science, Technology, and Security Policy.

Security Expert Advises on Proposed US Missile Defense Strategy at AAAS Capitol Hill Briefing

Russian concerns about a recent US Missile Defense Agency proposal are "understandable" according to an expert in US national security policy during a 28 August briefing to the US Congress. The proposal places interceptor missiles in Poland and an advanced radar system in the Czech Republic to protect the United States and Europe against a nuclear launch from Iran. Russia proposes modifications to this plan, including moving the radar site to Azerbaijan, so as not to threaten the strategic balance in Europe.
Read more
about the debate, efforts to provide evaluation by individual scientists, and efforts to inform the public and elected officials about unanswered questions.

JAMA Commentary on Engaging the Public
"For science to truly serve society, biomedical scientists need to take advantage of all opportunities to engage more fully with the public," AAAS CEO Alan Leshner states in a commentary published 19 September in the
Journal of the American Medical Association.
Leshner writes: "Practitioners and researchers have numerous opportunities to discuss science and scientific evidence with patients and others…to listen as well as to educate."
Read the opening statement of the commentary
, "Beyond the Teachable Moment" (the full commentary is available only to
JAMA
subscribers).

AAAS Book on Obesity Wins Bronze Award

One of more than 1,000 entries competing in the 14 th annual National Health Information Awards, "Obesity: The Science Inside" won a bronze award in the patient education information category. The awards recognize the best US consumer health information programs and materials, setting industry standards for quality. The book explains the causes and consequences of the condition-- only a third of Americans maintain a healthy weight-- and offers tips on prevention and treatment.
Read more
about the winning entry, part of a seven-book series organized by AAAS's Healthy People Library Project, and find out how to order or download the 77-page book.
AAAS is Developing Science-Based Teaching Tools on Underage Alcohol Use

One survey shows that nearly 13 percent of US sixth-graders (students 11 to 12 years old) reported alcohol use in the last 12 months. "The Science Inside Alcohol," a three-year project funded by the National Institute on Alcohol Abuse and Alcoholism (NIAAA), is designed to give children a biological understanding about how alcohol affects the body. The teaching tools will go beyond a purely prevention approach to present key science concepts in simple, direct language, drawing from AAAS's long experience in developing standards and benchmarks for effective science education.
Read more
.
---
Advancing Science, Serving Society
S&T Legislative Tracker Monitors Congressional Science and Policy Activities.

Progress on climate change, stem cell research, energy, innovation, genetics, education, and other S&T issues is being tracked through both chambers of the 110 th Congress. This service for AAAS members and the public provides critical information on public policy in-the-making, updated as measures progress through the legislative process.
Access the Legislative Tracker.

The AAAS Center for Science, Technology and Congress, established in July 1994, provides timely, objective information to Congress on current S&T issues and assists the science and engineering community in working with Congress.
Find out more
about the program and access the
Science and Technology in Congress
newsletter, the new legislative synopsis, and policy briefs.
Diverse New Class of S&T Policy Fellows

Using science and engineering skills to support policy making based on good science is the prevailing spirit driving the new Fellows class. The diverse group of 162 early- to senior-career professionals representing a spectrum of disciplines has begun year-long fellowships with US congressional offices and federal agencies, following an intense two-week orientation. This year's class, sponsored by AAAS and other scientific society partners is the largest in the 34-year history of the program, with ages ranging from 25 to 72. Fellowships were awarded in six categories: Congressional; Diplomacy; Energy, Environment, Agriculture, & Natural Resources; Health, Education, & Human Services; National Defense & Global Security; and Global Stewardship.
Read more
about the Fellows and their work at the intersection of science and policy.
List of partnering societies
.
AAAS S&T Policy Fellowships match scientists and engineers with host offices in Washington, D.C. that seek scientific expertise. The nearly 2,000 alumni of the program continue to improve the policy climate for science long after their fellowship years. Online applications for the 2008-09 class, due 20 December, 2007, are now available.
http://fellowships.aaas.org/
---
Read the latest career features from
Science
Careers. You can also search jobs, get career advice, find grant information and much more on
www.sciencecareers.org
- all for free.

Funding Opportunity: Merck/AAAS Undergraduate Science Research Program

The Merck/AAAS program is receiving proposals for awards to provide up to US$60,000 for joint use by the biology and chemistry departments at each recipient institution. The program is open to institutions in all 50 US states, the District of Columbia, and Puerto Rico. The funding supports research stipends for undergraduate students and ancillary programs that foster interactions between departments. Access information.
www.merckaaasusrp.org
Deadline: 2 November.
Membership: Honorary AAAS Student Members

National Association of Academies of Sciences members are now nominating high school and undergraduate college students for honorary AAAS student memberships. Annually, each NAAS member academy nominates two high school and two college students for one-year AAAS memberships which include weekly issues of the journal S cience and a certificate of membership.
Applications for Honorary Student Memberships
may be obtained online and submitted by mail to the member academies.
Deadline: 2 November.
Research Grant Opportunity: Request for Proposals from NAAS Members to Benefit Pre-college Science Classrooms
To improve research in the sciences by US secondary school students, member academies of NAAS are soliciting proposals for research grants funded by AAAS. Typically, 10 to 12 small grants are awarded each year.
Applications for Student Research Grants
may be obtained online and submitted by mail to the member academies.
Deadline: 2 November
Science Careers Feature: New Initiative in Germany

Germany's primary science funding agency, the Deutsche Forschungsgemeinschaft (DFG), recently announced the first winners of the Excellence Initiative, which funds graduate schools, research clusters from different institutions, and universities developing strategies for future initiatives. Prior to last year, all German universities received equal funding from state and federal governments. The Excellence Initiative introduces competition into the system to improve the quality of research.
Read about
Germany's increased support for R&D, including innovative new facilities and research centers.

Science Special Feature: BS/MS Opportunities

The 28 September issue of
Science
includes a special feature focusing on opportunities for undergraduates and graduate students. Companies large and small hire BS/MS scientists, as do government agencies and other nonprofits. Read it for your information or share it with your students.
Full story
.

Science Special Feature: 6th Annual Top Employers Issue

The 12 October issue of
Science
reports which companies are ranked by scientists as the top biotech/pharma places to work. Additionally, this issue explores criteria scientists use to evaluate career opportunities.
Read more
.
---
Sponsored by:

---
Special AAAS Membership/2008 Annual Meeting Offer
Do you have colleagues who are not yet members of AAAS? If they register in advance for the 2008 Annual Meeting in Boston, Massachusetts, USA, they will receive a one-year membership to AAAS for free, along with all member benefits including a one-year subscription to the journal
Science,
access to
Science
and all of its archives online, and access to
Science
Express. International members will receive
Science
Digital. This offer is good for advance registration only, and expires on 18 January 2008. Only nonmembers qualify. Share the news now.
Register for "Science and Technology from a Global Perspective,"
14-18 February 2008.
Sign up for Science E-mail Alerts to be Entered to Win an iPod

If on November 30 you are subscribed to one of our e-mail alerts, you'll automatically be entered in our drawing for one of TEN 4Gb video iPod Nanos.
Follow these easy steps to sign up for an e-mail alert.
Attend the Abelson Advancing Science Seminar

On 30 October, the day-long 2007 Philip Hauge Abelson Advancing Science Seminar, "New Horizons in Polar Science," will be held at AAAS headquarters in Washington, D.C. The seminar, furthering Dr. Abelson's vision to examine where science is going, will bring attention to new and exciting science in the polar regions that has broad implications for society in areas such as climate change, energy policy, and sustainability. For information, call +1 (202) 326-8737 or e-mail
abelson_seminar@aaas.org.
Register for the Public Information Officer Seminar

On 2 November, EurekAlert!, the global source for the advance word of discoveries in science, medicine, and technology, will be hosting a seminar, "Communicating Health News Across the Media Spectrum." This event for public relations professionals will be held from 8 to11 am, at the National Press Club in Washington, D.C. A small panel of health reporters and editors from print, online, and broadcast news outlets will provide tips on how to communicate health research information to the media more effectively.
Access information here
or
register online
. AAAS members will receive a US$10 discount.
US Federal Workers Can Support AAAS through the CFC

US government employees can select AAAS on the Combined Federal Campaign's national/international list, supporting innovations in science, engineering, and technology to serve society globally. All donations go to the AAAS Fund for Excellence to assist AAAS in proactively addressing critical issues such as education, climate change, national security, science diplomacy, and scientific integrity. The contribution period is 1 September-15 December. Note the new AAAS
CFC number 10134.
Read more
about the CFC and the Fund for Excellence.
Join the Metagenomics Webinar Brought to You by Science

Join an online seminar on 24 October at 12 noon EDT ( 9am PDT, 5pm GMT ) entitled "A Viral Metagenomics Study of Honey Bee Colony Collapse Disorder," presented by two eminent authors of a recently published
Science
paper. Gain more insight into their data as well as the technological advances that made the work possible. Pose your own questions live and in real time directly to the authors. Time is running out, register today:
www.sciencemag.org/webinar
Produced by the
Science
Business Office and sponsored by Roche and 454 Life Sciences.
Read a Greener Science, Now Printed on Recycled Paper

Science
has switched to an environmentally friendly, easy-to-read paper stock made from 30% postconsumer recycled materials in a process that also reduces toxic byproducts. The search for a supplier that could provide high-quality white recycled paper for graphics-heavy pages began several years ago and resulted in a stock manufactured by a Finnish company at a mill in Germany and shipped to US printers in Minnesota.
Read more
.
Visit the AAAS Gallery Exhibit of Fiber Art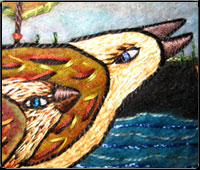 A basket woven from pine needles and linen, a hand-died Marino wool wall piece, an acrylic-coated canvas rug-- these works are among the 41 pieces displayed in the Fiber Arts Collective exhibit. Since 1985, the AAAS Art of Science and Technology Program has showcased art about science, art by scientists, and art that employs a new or original technology or technique. See the show at the AAAS Gallery in Washington, D.C., Mondays through Fridays until 16 November.
Read more
about the art and the artists.
[Photo of work by Renee Harris]
View the Winners of the Science and Engineering Visualization Challenge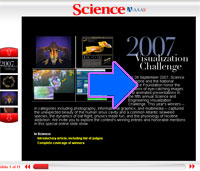 The complex elegance of a bat's flight pattern, the simple beauty of feathery seaweed, the artful anatomy behind the human nose-- these and seven other graphic images are winners of the 2007 International Science and Engineering Visualization Challenge. The competition, jointly sponsored by AAAS and the National Science Foundation, honors artists who use visual media to enhance understanding of scientific research.
Read more
about the art of science and view the winners in the 28 September issue of
Science
and on the NSF website.
View a slideshow
online to watch the videos and other interactive entries.
---
AAAS News & Notes
appears in
Science
in the last issue of each month.
You can also read more about AAAS at
www.aaas.org
.
Science
magazine is available at
www.sciencemag.org
.
Change your mailing address or other info at
www.aaasmember.org
Donate to AAAS
Members and friends can choose from multiple ways to contribute to AAAS's mission to promote science in all forms. Your employer may be one of more than a thousand corporations and organizations offering programs to match charitable contributions made by employees, either in whole or part (check with your human resources department to see if your organization participates). You also may choose to donate through our credit card installment plan. For information on these and other ways of giving, contact the AAAS Development Team at +1 (202) 326-6636 or go to
our website.
We thank our many supporters who help us meet the ever-changing opportunities for new initiatives.
Renew your membership here