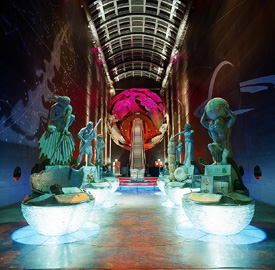 You are invited to join the editors and staff of Science to celebrate this occasion at a cocktail reception at the Natural History Museum in London on Thursday, 14 July, 2005. Drinks and canapes will be served from 7:00p.m. to 11 p.m.
Guests of honor will include Dr. Donald Kennedy, Editor-in-Chief of Science Magazine.
Special gifts celebrating the event will be distributed to those who attend. All AAAS members who attend will receive our AAAS member pins.
7:00 - 11:00 p.m.
Thursday, 14 July 2005
Earth Galleries
Natural History Museum
Cromwell Road, London SW7 5BD
RSVP required
You can learn more about the venue by visiting http://www.nhm.ac.uk/museum/earthgalleries/ . Click here for directions: http://www.nhm.ac.uk/visiting/where.html.
All are welcome to attend but we require that you RSVP. To RSVP or for further information, please email: 125th@science-int.co.uk.
Reduced hotel rates are being arranged for those who wish to spend the night in London. More information will be available on this website closer to the event.