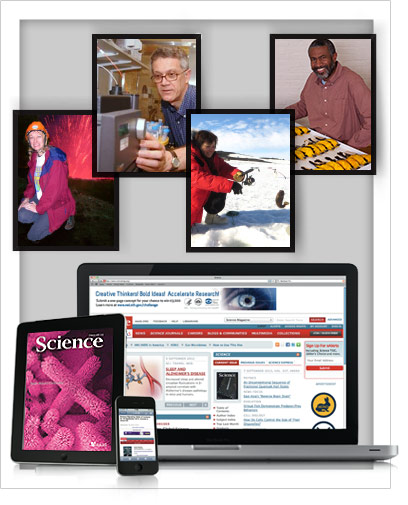 Becoming a member of AAAS has never been easier, or more rewarding, than it is today.
Open to everyone, the non-profit AAAS is home to a community of over 120,000 people, from Nobel Laureates to high school students, who believe in the power of science to make our world a better place.
From the moment you join the AAAS you automatically become a part of this community with networking opportunities through AAAS member sections, online activities through AAAS MemberCentral, and more.
You also get immediate access to everything that AAAS's award-winning journal Science has to offer.
This includes:
51 weeks of home delivery of Science
Instant online connection to every Science article ever published, from today, dating back to 1880
Anytime, anywhere access via the Science mobile site and apps for Android, iPad, and iPhone devices
Members-only newsletters; and more.
As a member, you are also making a critical contribution to AAAS's efforts to provide a public voice for all of science. With public skepticism about science increasing, and public funding for research more uncertain than ever, this work has never been more important.
From programs like the AAAS Science & Technology Policy Fellow program, which embeds scientists in Federal agencies so that policymakers have ready access to scientific expertise, to SSE, which brings volunteer scientists into public school classrooms, to petition drives calling for the preservation of federal R&D funding, AAAS is hard at work promoting science in government offices, in schools, and in the public commons all around the world.
Join AAAS today and fill your next 365 days with community, Science, and support for all of the sciences. Together we can make a difference.
Already a Member/Subscriber?
Renew here for another year of Science and AAAS »