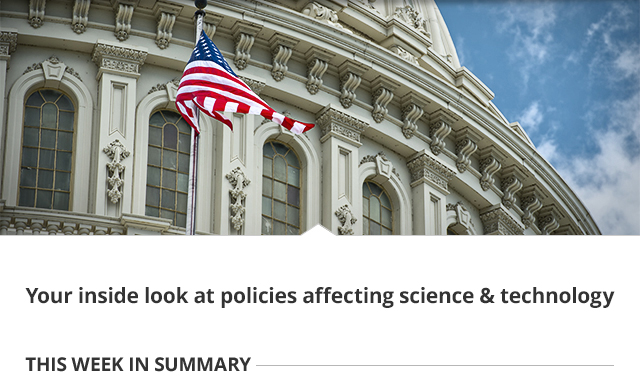 The Federal Deficit continues to decline, while speculation persists about the prospects of a government shutdown. Meanwhile, the Iran Deal survives a Senate vote and the EPA endures the ire of Congress for the Animas River toxic spill. Finally, city leaders from the U.S. and China meet this week to discuss tackling climate change at the local level.
Shutdown Debate Continues. At the time of this writing, Congressional Republicans have still not publicly announced a course of action to avoid a shutdown on October 1. A continuing resolution, to temporarily extend current spending levels, may be unveiled this week. Hill conservatives remain committed to using that resolution to block funding for Planned Parenthood, while GOP leadership is instead backing alternative legislation to address abortion and avoid a shutdown fight. Without the conservative vote, Republican leadership would have to rely on Democrats to pass a temporary resolution, in exchange for which Democrats are demanding a discretionary spending increase. Such an increase would have an impact on FY 2016 science appropriations, which have generally been very modest so far.

Federal Budget Deficit Lowest in Seven Years. Last week the Treasury Department released a monthly statement showing that the federal budget deficit stands at $530 billion, which is a 9.6 percent decrease from last year and the lowest level since 2007.
Iran Deal Survives Senate Votes. Last week and again this week, Senate Democrats delivered a victory to the White House by blocking the House Joint Resolution 61 to disapprove the Administration's nuclear arms deal with Iran. Both chambers must vote before an agreed upon deadline of September 17 in order to stop the deal from moving forward.

House Science Committee Hearing on NEON. The House Committee on Science, Space, & Technology's Subcommittee on Research and Technology is holding an oversight hearing this Friday, September 18th entitled NEON Warning Signs: Examining the Management of the National Ecological Observatory Network. The Network is funded by the National Science Foundation, which recently announced reducing NEON's scope through eliminating a major aquatic research component.

EPA Under Fire for Mine Waste Spill. Environmental Protection Agency (EPA) Administrator Gina McCarthy is appearing at three Capitol Hill hearings to answer questions about the mine waste spill in Colorado for which her agency has taken responsibility. The House Natural Resources and Oversight Committee, Senate Indian Affairs Committee, and the Senate Environment and Public Works Committee will host hearings on the spill. The House Science, Space, and Technology Committee held a hearing last week and Chairman Smith called the EPA's negligence "inexcusable."

AAAS Joins Others for Medical Research Hill Day. AAAS will join hundreds of other groups for the third annual Rally for Medical Research Hill Day this week. Patients, researchers and other biomedical research advocates will visit with their congressional offices to discuss the importance of funding for the National Institutes of Health.

Golden Goose Ceremony. Last week Joel E. Cohen and Christopher Small became the newest winners of the Golden Goose Awards, which honor researchers whose federally funded work may have seemed odd or obscure but has resulted in significant benefits to society. Cohen and Small's National Science Foundation-funded work on how human populations are distributed with respect to altitude had an unexpectedly broad impact, touching areas as diverse as food production, semiconductor manufacturing, and cancer research. The pair will be honored with other 2015 awardees at a bipartisan ceremony this week on Capitol Hill.


Department of Energy Releases Quadrennial Technology Review. The Department of Energy (DOE) has released its second Quadrennial Technology Review. The QTR provides an overview of how energy is used in the U.S., as well as an overview of the current status of the science and technologies that drive the nation's production and consumption of energy. The report addresses six broad technology areas: grid modernization, clean power, buildings, manufacturing, fuels, and transportation. Within those six chapters it identifies key research, development, demonstration, and deployment (RDD&D) opportunities that can be used to advance the energy sector including better utilization of water in energy systems, materials development, and energy storage.

U.S.-China Climate Summit. On September 15-16, leaders from the United States and China met in Los Angeles for a Climate Summit to discuss additional steps to address climate change. The summit featured representatives from a number of key U.S cities (Atlanta, Miami, Seattle, and Boston) that have agreed to take steps to address a changing climate at the local and state level.

FTC Announces PrivacyCon Forums. Edith Ramirez, Chairwoman of the Federal Trade Commission (FTC) recently penned an op-ed in arstechnica calling out the need for the Commission to stay on top of the latest research in cybersecurity and privacy. To accomplish that goal, the FTC will be convening a set of forums they are calling PrivacyCon, with the first set for January 14th, 2016 in Washington, DC, that will bring together policymakers and technology researchers. In a follow-on piece, Brookings Senior Fellow Stuart Brotman called on federal agencies to keep a close eye on the new forums as a potential model for approaching technological issues in their own jurisdictions.

U.S. Government Drops Case Against Temple University Physicist. As reported in Science Insider, federal prosecutors have dropped their case against Dr. Xiaoxing Xi, a Temple University physicist who was accused earlier this year of providing sensitive U.S. technologies to the Chinese. Charges were brought based on Dr. Xi's email exchanges with collaborators based in China. The case was dropped after Dr. Xi's defense team successful argued that the email exchanges were "routine academic collaboration" that did not involve any restricted technologies.

Call for Nominations for the Alan T. Waterman Award. The National Science Foundation (NSF) is accepting nominations for the 2016 Alan T. Waterman Award. Each year, the Foundation bestows the Waterman Award in recognition of the talent, creativity, and influence of a singular young researcher. Established in 1975 to commemorate the Foundation's first Director, the Waterman Award is NSF's highest honor for promising, early-career researchers. Nominations are due by October 23, 2015; more information can be found here.


Effective September 8, Vaughan Turekian, who had been the AAAS Chief International Officer since 2006, became the new Science and Technology Adviser to the U.S. Secretary of State. Before joining AAAS, Turekian worked for the State Department as a Science Fellow from 2002 until 2003, and as Special Adviser to the Under Secretary for Global Affairs from 2003 until 2006.

Publisher: Rush Holt
Editor: Joanne Carney
Contributors: Christine Burgess, Ed Derrick, Sean Gallagher, Erin Heath, Matt Hourihan, David Parkes, Josh Shiode
NOTE: The AAAS Policy Alert is a newsletter provided to AAAS Members to inform them of developments in science and technology policy that may be of interest. Information in the Policy Alert is gathered from published news reports, unpublished documents, and personal communications. Although the information contained in this newsletter is regarded as reliable, it is provided only for the convenience and private use of our members. Comments and suggestions regarding the Policy Alert are welcome. For more information, contact alert@aaas.org
Copyright © 2015 American Association for the Advancement of Science.